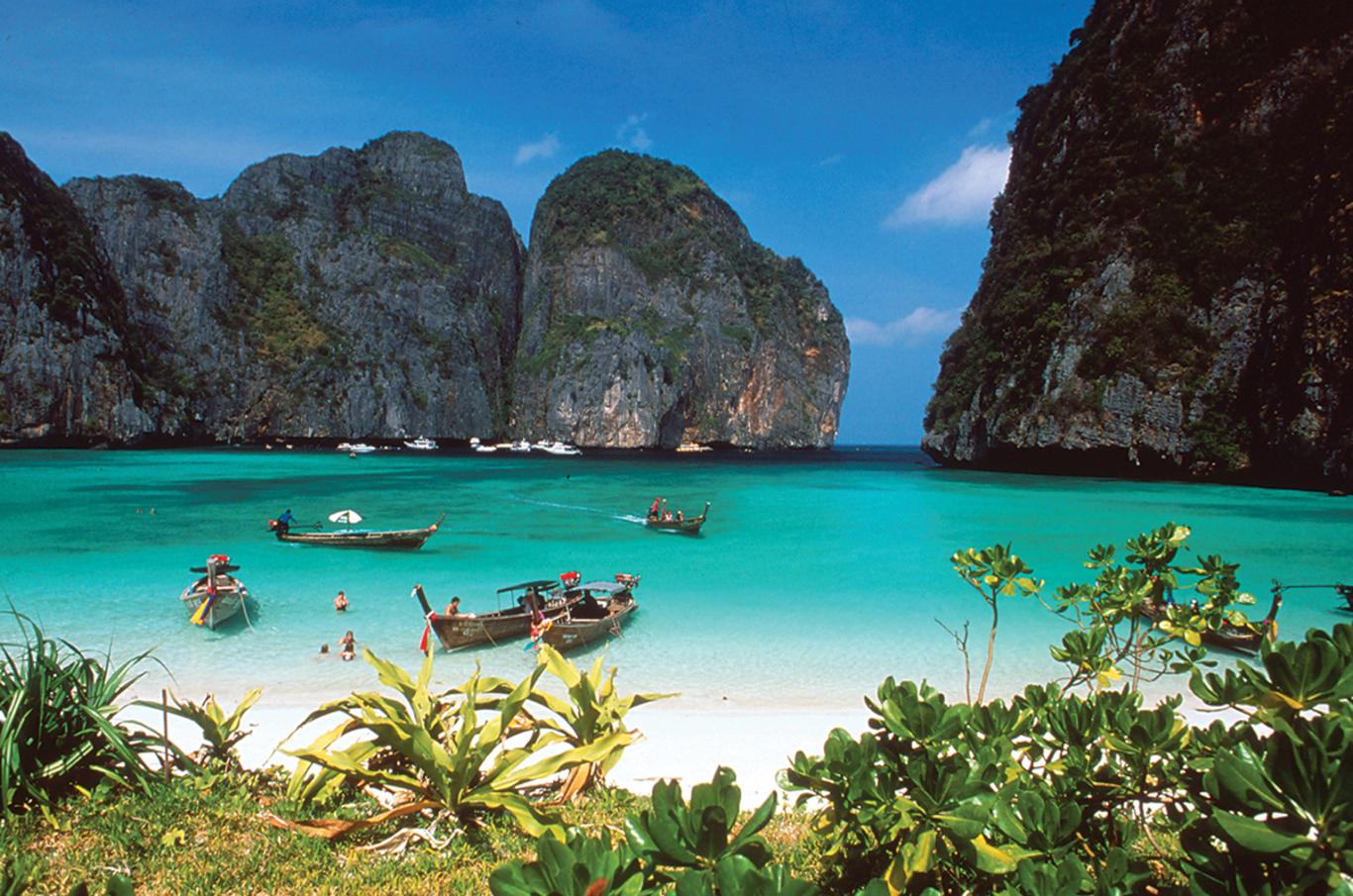 "So you're going to Thailand,are you?" Smirked a friend of mine. "Pattaya, Huh?" he said, waggling a knowing finger at me.
"No!" I said, "I am going on a romantic holiday with Saumya (my wife), to one of the most beautiful places in Thailand and arguably in the world, Koh Samui."
"What? Where is this place? Close to Pattaya? Even better, eh!" my friend queried.
I shook my head and left him to his lascivious thoughts. But it is true. Koh Samui is one of the most exotic locations, not known to too many people in India. Thailand, for most of us is Bangkok, Pattaya, perhaps Phuket, she-boys, sexual perversions and shopping.
Located in the Gulf of Thailand just off Surat Thani, Koh Samui is at the tip of the green pointer on the map. 'Koh' or 'Ko' in Thai means island. A beautiful, idyllic place for a getaway where time slows down to your pace. A place where relaxation, food, drink, foot massages and the gentle breeze stirring your hair(for those who have any left on their head…) are your constant companions. While the true seeker will find his favourite perversions (The true seeker can find God, perversions are a trifle….), they are not in-your-face and the place has the look and feel of a truly international and exotic tourist destination.
We decided on the trip in end August and narrowed down our choice of travel agents to YourTravelSecretary, a relatively new agency in Gurgaon. These guys gave us (we felt) the best deal in the budget we'd specified and the accommodation standards we'd asked for. With a lot of back and forth in the planning ( Saumya can be very exacting in the expected standards) we finally settled on the Mantra Samui resort in the Mae Nam part of the Island. Not exactly central but 15 minutes away from Bo Phut, where the Fisherman's Village on Friday night is the place to be in, and 20 minutes away from Chaweng, the best beach in Koh Samui.
October is great weather in Koh Samui ranging from 23℃ to 29℃. Occasional showers lasting for about 30 minutes, can be expected in the daytime.
We made the mistake of not getting our visas in Delhi but opted for VOA. Since we'd landed at Suwarnabhumi Airport in Bangkok, we had to get our immigration checks and VOA done at Bangkok, which had us scrambling for our connecting flight to Koh Samui (We had a 2 hour gap between the two flights).
We were standing at the back of an interminable, non-moving line at the VOA when Saumya decided to take things into her capable hands. She walked up to a couple of desperate-looking Indians very near to the counters, batted her eyelids and spoke to them in a manner that, even after 17 years of marriage has me turning mental cartwheels. The poor guys didn't stand a chance. We got through immigration ahead of them.
There was also a counter for fast-tracking the process. While this was manned by a lady who looked like she breathed fire and ate babies for breakfast, the counter was non-operational. She had an "Out to lunch" sign on the counter. At 0630h in the morning! And we crib about our government offices! I was completely at home with this concept of goofing off. I've seen it happen all the time in Delhi.
Air Bangkok has hourly flights to and from Koh Samui. Very convenient.
Unlike the glass and concrete jungles that most airports are nowadays, Samui Airport looks and feels like a resort.
Really cool. It inspired us to get drunk immediately and without much further ado, we picked up a bottle of Prosecco. The pickup had been tied up by YourTravelSecretary and the smiling lady cabbie took us to our resort, the Mantra Samui. The process of checking in was as much a pleasure as it was efficient. Our rooms were on a hillock where we were taken by electric golf cart. We moved in and opened the sliding doors of our suite to this view.
I'd called beforehand and informed them that it was Saumya's birthday so Mantra Samui did their bit and sent over a birthday cake for Saumya. Pretty neat. Great tasting as well.
We rested for a bit and then, in the evening went off to Chaweng beach. This is where 'time stands still'(Thank you, Ruskin Bond). Feeling the softness of the sand under your feet and the gentle breeze with the startling freshness of the ocean on your skin, the mind and time come to a stand-still. We selected one of the many places where the beach-side resorts had placed seating arrangements and their beachside bars were doing brisk business. This place had a DJ with his console and very cool lighting right on the beach. We settled down for cocktails which were very expertly mixed. The mixologists there are very generous with their alcohol, just the way I like it. The evening melded into a smooth,serene haze and we made it back to our resort by midnight, quite blissful.
Post a sumptuous breakfast(included in the package), we were picked up from our resort for a tour to the Ang Thong National Marine Park. The lady cabbie who'd picked us up from the airport had assured us that her company would send the pick-up vehicle. Naturally, it did not arrive on time. Very Indian! I was not missing home.
Somehow, this delay became my fault, according to Saumya, who reminded me, ad infinitum, how I'd do better to be more efficient and careful. As if I was the pick-up guy! Just like back home. How could one be home sick?
Anyway, timely intervention of Raman of YourTravelSecretary, got the Thai travel agency moving and we reached the beach at Chaweng, where the speedboat was waiting to take us to the marine park.
The first stop was at Ko Mae Ko, a small island among an archipelago of 42 islands of limestone and jungle pushed up from the seabed by titanic forces in the distant past and eroded by sea and wind such that most of the formations above sea level were mushroom shaped. The sea had gouged caves and depressions in these islands over the eons. Nature has a way of making humans realise how small and insignificant they are. It was these that we went to see on kayaks.
These are not the kayaks used by eskimos or the racing kayaks used in competitions. These kayaks had one purpose only. To try and keep afloat despite the best efforts of the passengers to capsize them.
Having dutifully photographed ourselves in various poses in the boat, we set out with great enthusiasm and vigour to see these islands from up close. Saumya and I were in the same kayak with a double sided paddle each. After listening to me for about 30 seconds she started paddling as well in sync with me. I was feeling great. After precisely 30 seconds( she has this very accurate mental clock) she stopped paddling because she 'didn't want to break into a sweat'. So I was rowing and sweating and was being told how near to the rock face we should be. Saumya, like Nature, has a way of reminding me how small and insignificant I am in the scheme of things ! While I was struggling with the paddle and the waves, Saumya made herself useful by taking selfies. After about 45 minutes of paddling around 3 islands, we went back to the beach. While Saumya went up on to the boat deck, I went for a swim. The water was nice and warm. Lunch was a buffet affair laid out on the island, filling but not an epicurean delight.
We were then transported to another place between the archipelago where we were given snorkeling gear and we jumped into the water. Butterfly fish, Angel fish, some brown fish I didn't recognise, came to check out the floating guests in their home. Curious yet cautious. I didn't blame them. If I were them, I'd be wary of me. I saw an entire new world where I was an outsider and the entire bio-diverse marine ecosystem around the corals was home to fish who didn't give a fish for us and our temporary intrusions. I saw a blue crab scuttling away in its characteristic sideways,well, crab-walk. I thought I saw some small shark like thingies but wasn't sure. We finally got back on to the catamaran and came back to Koh Samui.
Back at the resort, a quick shower and change later, we headed off to Fisherman's Village at Bo Phut, this being Friday.
The Fisherman's Village at Bo Phut is a major attraction on Friday night. It ranks right up there with the Full Moon Party in things to do in Koh Samui. Almost everything one can think of or eat, is there. Road side stalls sold barbecued pork ribs that would have done credit to a Michelin Star restaurant. Seafood of all kinds, mussels , squid, octopus, fish, shark, barracuda, were being grilled on stalls run almost exclusively by women. That's one strange thing we noticed. The front face of all the commerce were women. Very few men were to be seen.
I was in high spirits and looking to do something different.
So I went to this stall. This girl was selling fried insects. So I bought a small assortment of grasshoppers,locusts and silkworms. The three trays from the right. They tasted crunchy, creamy and fairly nice. I wouldn't go to a restaurant and order these, but I now know that in a crunch, I can definitely munch!
I had the company of this German couple who were not loath to try the insects. Saumya tried and gave up in disgust. Something about, "there are limits to what I'll eat". She took this pic instead.
The market was packed with only non-locals. Israelis find Koh Samui a hot-spot as do Aussies and Europeans especially from Spain, Germany and further up north. A few Indians were there but we all prudently stayed out of each other's way. We wandered around aimlessly, bought clothing that did not need buying and drank alcoholic concoctions that definitely needed drinking! Amazing what these mixologists can come up with in their miniature stalls.
The variety and sheer number of cuisines in Fisherman's Village was breathtaking. Quite naturally, seafood was the main attraction at most restaurants where chefs were busy grilling lovely smelling seafood on large outdoor grills for all to see. Squid, Octopus, steaks of various finds, fish- mostly red and white snappers, pork ribs, cuts of beef, you name it! It was all there. An epicurean delight. I was salivating like a wolf. Couldn't wait to sink my teeth into some of that stuff.
The evening's finale was an excellent meal of barracuda and shark steaks. (I know, I know.. Save the Shark and all that sort of thing. In my defence, I was only trying it for the first time but you gotta eat it to believe it.) Dinner was on the beach, in a restaurant by the name, 'The Address'. Fabulous food accompanied by more wine.I recollect chinese lights floating skyward on the beach, a couple of dogs frolicking in the surf and an almost uncontrollable urge to pee. The restroom jarred me back to reality. Filthy! Had I been in sufficient control of my bladder, I'd have stepped out and peed into the ocean. After I'd finished puking! At any rate, I think I broke my personal record for holding my breath. I went back to our dinner table, jarred and slightly disoriented but the food and the ambience soothed my frayed nerves in no time at all. More alcohol also helped.
Very clear in our minds that no trip to Thailand is complete without a foot massage, we looked around and entered 'Happy Massage Parlour' just outside the Fisherman's Village. While my 'therapist' was a girl, Saumya's 'therapist' was a she-boy. Only the massage was 'Happy', not the ending! We reached back to our resort as content as bugs in a rug.
We woke up the next day to the bright rays of the sun powering their way through a gap in the black-out curtains. We had a lazy dip in the resort's pool, which was right in front of our room and followed it up with a hearty breakfast at the coffee shop, which was also right in front of our room! As this was our last day in Koh Samui, we decided not to waste any more time and headed for the beach at Chaweng. We reached by 1100h and could see the beach chairs filling up.
Dutifully, we occupied two of these, strategically located under large umbrellas to avoid the sun and proceeded to fortify ourselves with alcoholic restoratives. Then the chairs around us filled up fast. This huge group of mostly beautiful women and a pot-bellied man and a young boy took up the space around us. While we were lazing on our chairs, this group of girls proceeded to play paddle ball in a clumsy, endearing way. Endearing, as only beautiful girls whose ample bosoms are threatening to break out of their minimal confines with every jump can be endearing. The reason why Baywatch is still endearing. My eyeballs were doing a jig of their own and the contents of my glass needed frequent replenishment.
A beach hawker came around and Saumya picked up a bikini from her. She then proceeded into the resort behind us to change.
The name 'bikini' for the abbreviated two-piece swimsuit was coined by Louis Réard, a Parisian engineer who invented the swimsuit. He was inspired by the site of the first atomic bomb testing, the Bikini Atoll in the Marshall Islands. He must have had in mind that the sight of the swimsuit would have an effect similar to an atomic explosion.
He was bang on! Saumya came up in her bikini and heads started turning and eyes started popping. Fully charged, we decided to go for a spin on a personal watercraft. Yep. Kawasaki invented the first commercially successful personal watercraft in 1972 and called it 'Jet Ski'. The name stuck. Like Velcro!(Which incidentally is the proprietary name of the hook and loop fastening system)
We chose a 1400HP monster and we moved over into deeper waters, away from the beach. I put the watercraft through its paces and familiarised myself with the controls and then I switched seats with Saumya. She got the hang of it in no time at all. She opened up the throttle and got going like something out of a James Bond film. Now, the craft requires effort to steer and control and, as we have observed earlier in this blog, she's not too keen to put in any unnecessary effort, she relinquished the controls to me and we switched seats. Then I gunned the engine and the monster leapt forward, a slave to my command. I was the master of the universe, I was riding on the wind, I was a shooting star, I was.… "Drive carefully!!!" came a scream in my ear and I was jolted back to reality. Have I introduced you to the world's worst backseat driver? Well, ladies and gentlemen, there she was, riding pillion.
We beached at a sedate pace and while Saumya lolled in the beach chair, I went for a long swim. We then went into the resort and washed up in fresh water. No one asked. No one bothered. We weren't even staying in that resort. Things are pretty cool that way.
We walked around on the Chaweng Beach road and came up to this place that was doing brisk business despite it being past lunch time. We ordered Red Snapper and Tom Yum Goong (Shrimp Soup)and Tom Yum Gai(Chicken).
A word about Tom Yum soup.
Literally, the words "tom yum" are derived from two Thai words: "tom" and "yam". "Tom" refers to boiling process, while "yam" refers to a kind of Lao and Thai spicy and sour salad. Thus, "tom yum" is a Lao and Thai hot and sour soup. Indeed, tom yum is characterised by its distinct hot and sour flavours, with fragrant spices and herbs generously used in the broth. The basic broth is made of stock and fresh ingredients such as lemongrass, kaffir lime leaves, galangal, lime juice, fish sauce, and crushed chili peppers. A trip to Thailand without partaking in a bowl of Tom Yum is like going to the Louvre and not seeing the 'Mona Lisa', like going to Tirupati and not tasting the laddoo prasadam. This (drum roll !!!!) is the single malt of all soups! It makes you want to stay back in Thailand a bit longer. A taste of it makes you go down on your knees and thank God. The flavours are so rich, unique and exotic that you just can't have enough of it. Vegetarians, do not despair. There is a version for you as well, you poor souls!
Tearing ourselves away from this heavenly experience gastronomiqué, we came back to our resort to rest. For a bit. We hadn't had enough of the night life at Fisherman's Village at Bophut. This time, we went to 'Happy Massage parlour' for another round of foot massage before dinner. Thus primed, we went into Fisherman's Village. Though the Friday market was not on, there was plenty of action in Bophut. A street performer was rapping, complete with all DJ effects, just by modulating his vocal cords. Elsewhere, a band was playing cover rock numbers from Santana and AC/DC. The atmosphere was absolutely electric! This was the holiday I wanted! We downed alcoholic mixes of the type that would make your hair stand,make a corpse come alive, dissolve your sorrows, despair and your liver at the same time. Happily buzzed, we dined at 'The Happy Elephant'. It was an experience. The wood panelled decor, the muted candle lights, the riot of multicoloured flowers arranged in bouquets, the Geisha-like stewardesses, fawning at our every need.. it took our breath away. We came away from 'The Happy Elephant' happier than the elephant!
We made it back to our resort as we had an early morning flight out to Bangkok. We had a day and a half at Bangkok but that's another story……