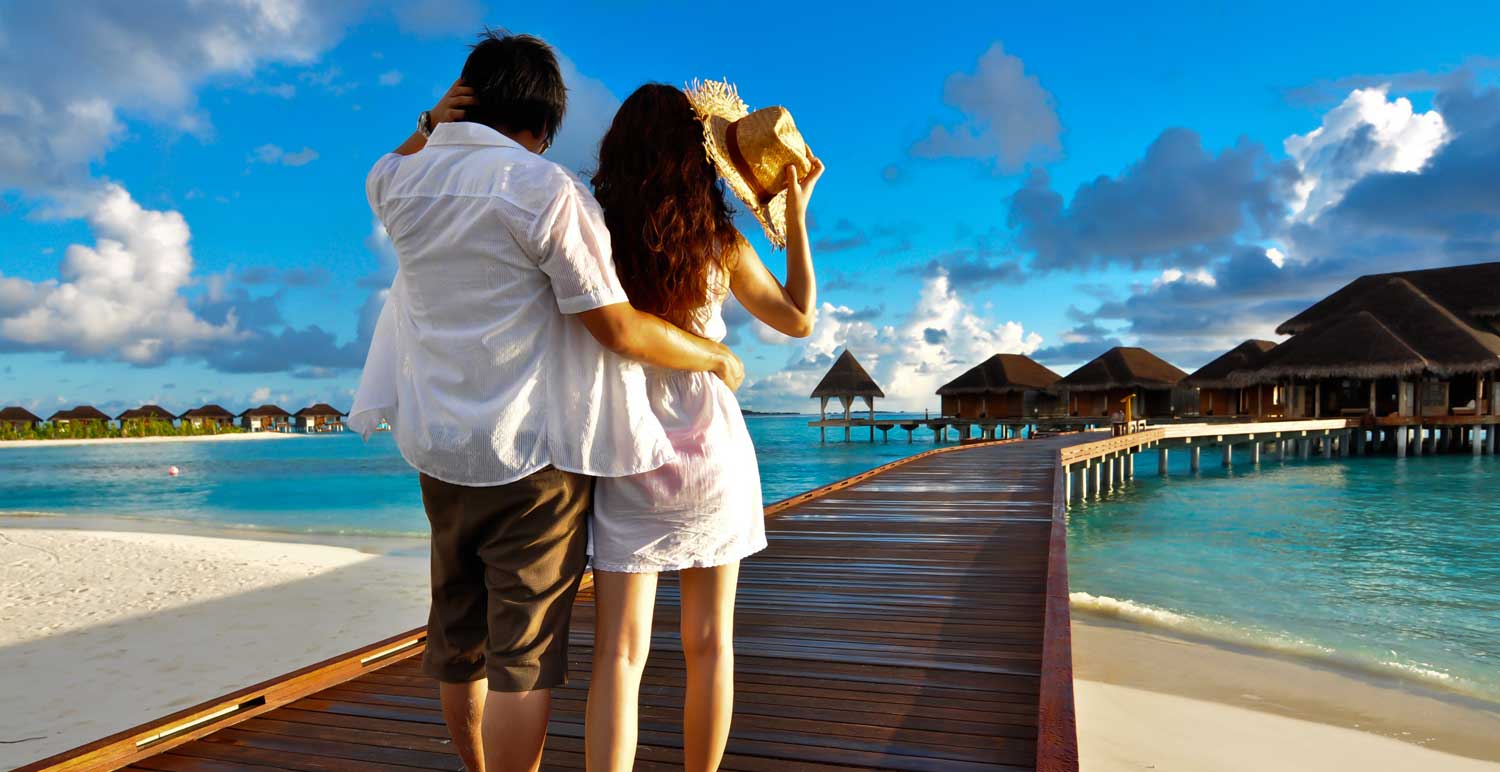 Maldives tops the list as one of the best honeymoon destinations in the world. This stunning archipelago of various island formations is situated in the Indian Ocean and is an idyllic location for a tropical International travel destination. A honeymoon in Maldives offers you a great opportunity to enjoy the sun, sand, and sea along with ecstatic views, and a chance to experience world-class service at resorts that offer unparalleled privacy to enjoy the most romantic moments on your honeymoon trip.
Situated amidst nature's tropical paradise, most resorts here offer bright open rooms, private pools with sun decks perfect for soaking up some sun and a fantastic range of delectable cuisine. Apart from the views and perfect settings, the rooms are just a few steps away from the restaurants and other entertainment centers, ideal for a quick stroll. Enjoy privacy, warmth and a promise of top-notch facilities & services from the friendly staff, which will cater to all your needs for a magical holiday experience.
A honeymoon in Maldives enables couples to indulge in privacy and serenity that brings them closer to create lasting memories, cherished for a lifetime. If you are dreaming of a perfect honeymoon in Maldives, book your stay at 'One&Only Reethi Rah,' a luxury resort with over 130 private villas located along the sparkling blue coastline and offering the best in facilities, services, and rejuvenation.
Here there is no need for any planned itinerary, as you get to do what you wish to do. Witness the endless blue sea, take a swim together in the lagoons, watch a romantic sunset together, walk on the beach and feel completely relaxed and rejuvenated with an indulgent spa. Then there are the serene and beautiful turquoise lagoons and the silver sand beaches, ideal just to lie back and admire the paradise. Go sightseeing to one of the isolated islands, indulge in some water sports or go dancing at one of the night haunts and enjoy the tropical cuisine. With an abundance of marine life, flora, and fauna, Maldives will surprise you at every level with its vibrant and unique culture, and you are sure to come back for more. No wonder Maldives is declared as UNESCO World Biosphere Reserve that holds over 2000 species of fish and an astonishing number of sea life. It is also one of the most beautiful locations for scuba diving, so get yourself a trainer and go scuba diving with your partner to add some adventurous fun and experience romance in the water. The mesmerizing corals, stunning marine life and the magical, colorful world above the sea surface are sure to delight you beyond limits.
Maldives is today one of the most premium honeymoon destinations in the world and tops everyone's choice when it comes to International travel.
We at Your Travel Secretary arrange customized International honeymoon packages that let you and your partner spend the most precious moments amidst the splendor that is Maldives. Whether it's booking flights, arranging accommodations, documentations and planning a romantic night out, we help you at every step and create a holiday just the way you want it to be.